Camran Foods Fishaways
Camran Foods brings Fishaways to Zambia, with a restaurant in Kabulonga Shopping Centre and another at PHI Shopping Mall, both in Lusaka. Fishaways offers a wide range of delicious seafood meals that have proven to be exceptionally popular. Fishaways provides its customers with quick, great-tasting and nutritious meals whilst delivering excellent value for money – a compelling combination for the modern, health conscious consumer and their families.
Take away restaurant
Fishaways promises great quality and flavour - fried or grilled. These are innovative seafood and local fish restaurants that serve the freshest catch. Choose mouth-watering delicacies like calamari, prawns or perhaps a tasty, wholesome fillet of hake. Or keep it local with a mouth-watering full bream.
Everyday catch
Hake and green salad
Hake and coleslaw – served with chips or rice
Hake and calamari tubes – served with chips or rice
Hake and fried calamari rings – served with chips or rice
Hake or calamari wrap
Hake or calamari burger and chips
Prawn wrap
Paella – hake nuggets, prawns, calamari and mussels served on a bed of rice
Oceans Delight – fried calamari rings, pop prawns and hake nuggets served with regular chips or rice
Platter for one – medium hake, calamari rings, pop prawns, coleslaw, regular rice and chips
Shared catch
Platter of hake, calamari rings, pop prawns, coleslaw, regular rice and chips
Twin tide – hake served with large chips or rice
Fisherman's platter – hake and fried calamari strips served with chips or rice
Hake platter – hake served with extra large chips or rice
Fabulous platter – 4 medium hake & coleslaw served with large chips and rice
Captains feast – 2 regular and 2 medium hake served with extra large chips or large rice
Family platter – 2 regular and 2 large hake served with extra large chips or rice
Snack catch
Fish cake – freshly made
Calamari strips
Calamari rings
Squiggly pops
Hake nuggets
Pop prawns
Grilled calamari tubes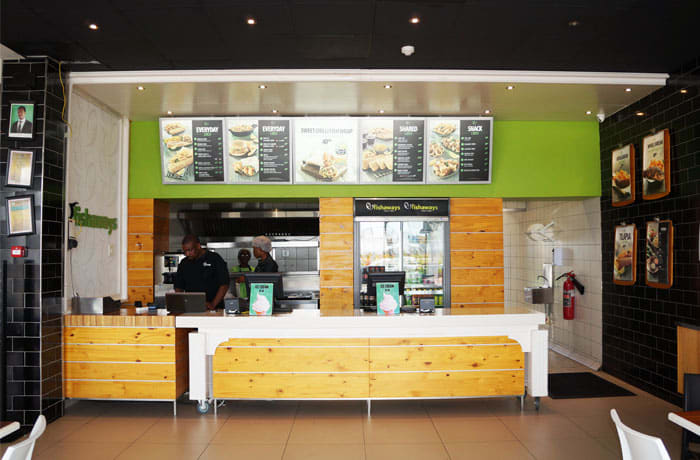 Camran Foods Fishaways · Take away restaurant