Cosmic Executive Lodge
Cosmic Executive Lodge is a new city lodge providing business executives and diplomats with attractive contemporary accommodation, conferencing and restaurant facilities in Lusaka, Zambia. The restaurant at Cosmic Executive Lodge is open to both residents and non residents, offers good local and international cuisine prepared by experienced chefs, in a chic African style setting. Polished dark wood long oval tables, smart comfortable seating and free wireless internet facilities ensure an effective day of presentations and conferencing. A well thought out service giving very good value.
Lodge
Cosmic Executive Lodge, situated in the quiet and peaceful suburb of Olympia Park, is a family owned business run by Professor and Mrs Kanyanga. The décor is fresh and edgy, with touches of gold, reds and rich brown colours in sumptuous fabrics. A couple of shaded balconies make a pleasant place to relax after a day's work.
The lodge has a crystal clear raised swimming pool, a quiet garden to relax in and plenty of secure parking.
Cosmic Executive Lodge boasts twenty guest rooms – four executive rooms, twelve superior rooms and four standard rooms. Executive rooms come with superb amenities including king-sized bed, en-suite bathroom with jacuzzi, DSTV, mini bar and air conditioning. Superior double rooms also come with en-suite facilities plus DSTV, mini bar and air conditioning. All standard rooms are equipped with shower rooms, DSTV, a mini bar and air-conditioning.
To reach Cosmic Executive Lodge, drive eastwards along Great East Road; turn left into Katima Mulilo Road just after passing Arcades Shopping Mall on the right; take the first left off this road; then follow the signs right and left to the end of the road.Facilities and information
Four executive rooms
12 superior rooms
Four standard rooms
Free wireless internet
Air conditioning in all rooms
DSTV
Rates range from $72 to $100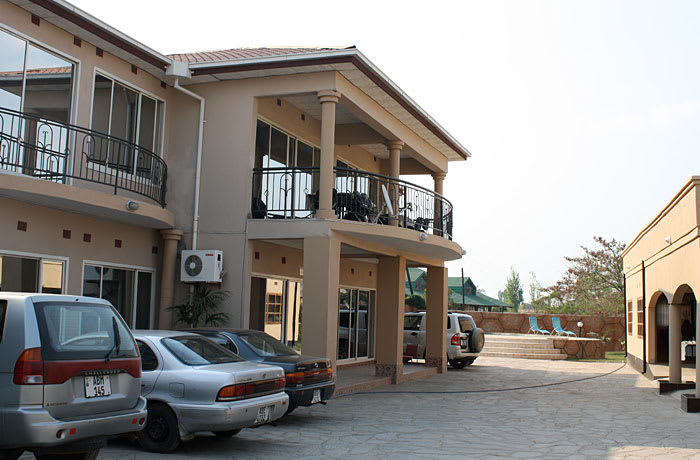 Cosmic Executive Lodge · Lodge
Casual dining restaurant
Created in a modern Zambian style, attractive dining areas complement the outdoor bar, giving the public and guests staying at the lodge a choice of indoor or outdoor dining. Tables are dotted around the garden, on verandahs and in private corners of the lounge area.
This place to eat offers a selection of international cuisine and local delicacies. On Wednesdays the restaurant serves Zambian food exclusively, offering an appetising range of authentic dishes for lunch and dinner. The service is flexible – just ask if you have specific requirements. The bar has a range of alcoholic and non alcoholic beverages.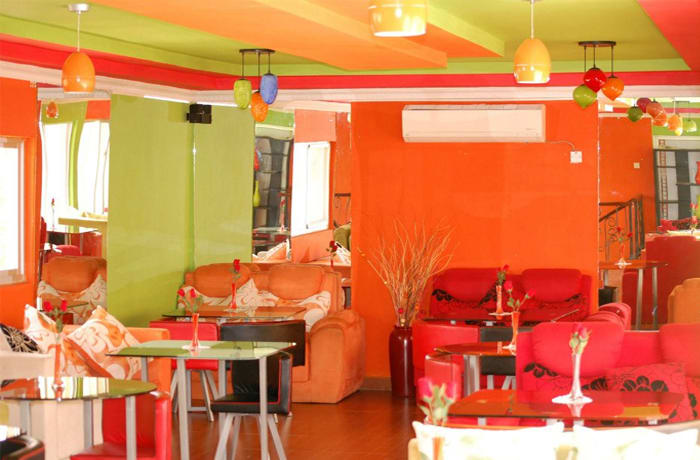 Cosmic Executive Lodge · Casual dining restaurant
Conference venue
The conference facilities cater for up to 120 delegates in smart well-planned rooms. These facilities cater for a range of clients, including diplomat and corporate delegates, all well taken care of by professional staff. This is a well thought out service giving very good value.
Cosmic Executive Lodge offers these conferencing facilities at just K110,000 per person per day, including teas, lunch buffets, mineral water and soft drinks. Conference requirements such as LCD projectors and flip charts are all available. The conference hall can also host corporate events such as cocktail parties, product launches and high profile press conferences.Conferencing facilities
Capacity: up to 120 delegates
Accommodation and food provided
Equipment such as LCD projectors
Conferencing rates
Conferencing: K110,000 per person per day
Includes teas, lunch buffets, water and soft drinks
Corporate conferencing event rates
25+ people: capped at K500,000 per person per day
15 to 25 people: K300,000 per person per day
Up to 15 people: K150,000 per person per day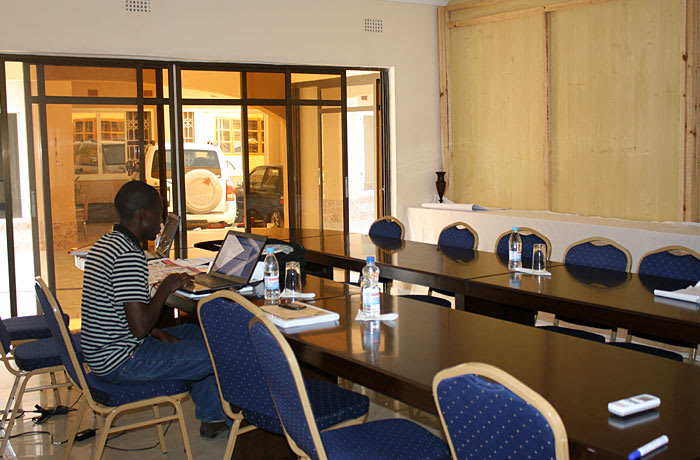 Cosmic Executive Lodge · Conference venue