Fringilla Lodge
Fringilla Lodge makes an ideal place for a weekend getaway in a farm setting. The accommodation ranges from camping to executive suites. With an excellent restaurant offering a variety of food and a playground for the kids, families are guaranteed a relaxed time as well as a scrumptious meal. Fringilla offers 4 modern conference halls. The situation and setting of Fringilla makes it popular for conferences, weddings, school and church retreats as well as family getaways in a tranquil environment.
Lodge
Picture delicious home cooked farm food, freshly picked vegetables, healthy livestock and a restful place for you to stay. This is Fringilla Lodge! Over time, Fringilla has expanded its services to include accommodation that caters for every kind of budget.
Traditionally overlanders, exploring the wide expanse of Zambia, have stopped at Fringilla Lodge to rest a while and stock up with fresh supplies of meat, greens, and other produce. Over time the Lodge has expanded its services to include accommodation that caters for every kind of budget – from camping at ZMW100 (K50 for children under 10), an executive room at the lodge for ZMW700, or a choice of family rooms at competitive prices.
At Fringilla Lodge, there's no compromise on the attention to detail and quality of the rooms. You can choose from a twin bed, double bed, single bed or family room. The lodge is surrounded by mature, immaculately kept gardens.
Fringilla Lodge accommodation
All rooms are en-suite
Self-contained chalets
Family rooms
Double rooms
Executive rooms
Campsite
Wi fi in conference halls, restaurant, and reception
Fringilla Lodge activities
Fully equipped children's playground
Horse riding and donkey cart rides every weekend
Tour of milking yard
Tour of piggery
Tour of meat plant or butchery
Bush and bird walks
Cricket field on the farm for runs or outdoor activities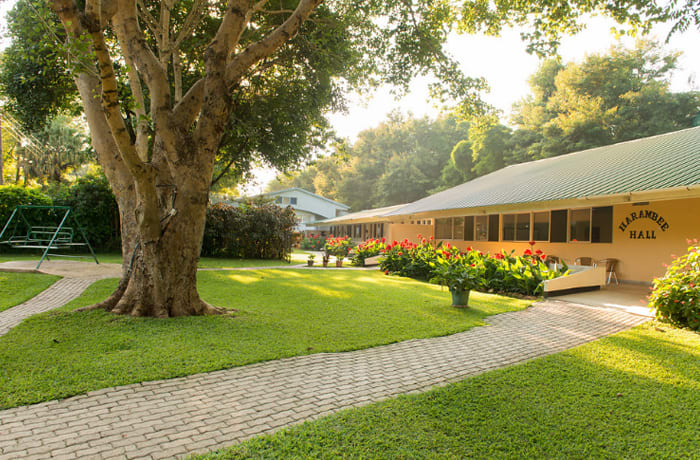 Fringilla Lodge · Lodge
Casual dining restaurant
A range of meals can be enjoyed all day every day at this relaxed family - friendly eatery. At Fringilla Lodge you can dine either indoors in the homely restaurant, or outdoors in the shady gardens. Fringilla is famous for its Boerewors sausages freshly made from coarsely minced beef and a range of spices.
The menu at the restaurant is bistro-style with the great advantage of home-grown organically-raised meat and vegetable products from the farm. As you relax at the bar, there's no need to worry about the kids – they will enjoy burning off all their energy in the extensive children's playground.
On weekends and holidays you and your friends will be entertained at Fringilla's famous weekend braai (BBQ), with an extensive choice of barbequed home-produced meat products and salads for pure culinary enjoyment. If you want to make your visit more than a day trip, a wide choice of accommodation is offered at Fringilla Lodge, including camping. There are also conferencing facilities for business or private functions such as weddings.
Restaurant information
Bistro-style menu
Home-grown organically-raised ingredients
Homely indoor restaurant
Shady outdoor eating
Fully stocked bar and lounge area
Child-friendly
Wi fi in the bar and restaurant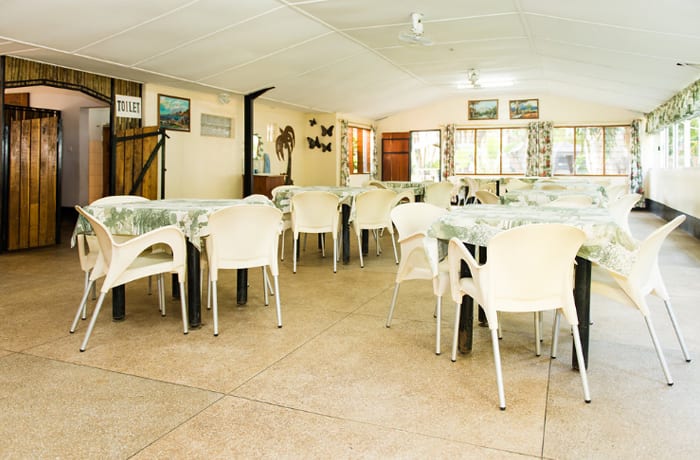 Fringilla Lodge · Casual dining restaurant
Conference venue
With its distinctly intimate and friendly feel, and grounds that can be transformed to match particular themes, Fringilla Lodge is a perfect place for conferences, workshops and weddings. Accommodation can be booked for your entire guest list and detailed menus can be put together to suit all tastes.
Fringilla Lodge is a perfect place for conferences, workshops, weddings and youth and church retreats. Grounds can be transformed to match particular themes, and accommodation is available on site and menus can be put together to suit all tastes. The conference centre at Fringilla comes complete with guest rooms for delegates, its own reception, lounge area and private dining room. The conference room can accommodate up to 150 people.
A full range of conference facilities are available for hire (such as a data projector, flip chart, TV and video). The Fringilla Lodge conference centre offers a complete facility with conference rooms, break away rooms, seating areas for discussion groups, secretarial rooms, lounge areas, restaurants, bars and accommodation. With well trained and experienced staff, individual requirements can be effortlessly taken care of, leaving clients free to attend to the business of the day.
Conferencing facilities
Up to 150 delegates or guests
Ideal for weddings
Great for corporate events
Reception and lounge area
Break away rooms
Private dining room
Restaurants and bars
Accommodation available
Projector and flip charts
TV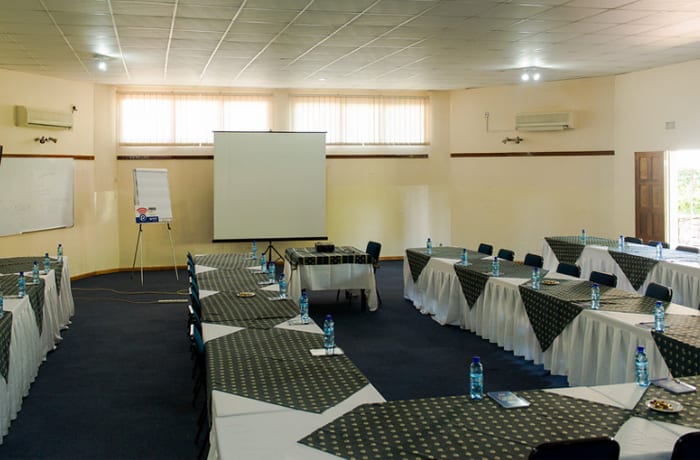 Fringilla Lodge · Conference venue