Grandtech Paints Ltd
Established to serve hardware stores, paint contractors, developers and do it yourself (DIY) projects, this company manufactures a wide range of quality paints and related products. Grandtech Paints prides itself on its modern factory with trained staff and quality control testing for all its products. The company has developed an extensive product range designed to cater for different client requirements, including aluminium paints, swimming pool paints and road line paints.
Contact details
Grandtech Paints Ltd has not updated their information in over a year and these details might be out of date.
Building materials
Grandtech Paints offers decorative and industrial paints as well as industrial coatings, thinners, crack fillers, wood preservatives, varnishes and spirit of salts. The company manufactures PVA, washable paint, super gloss enamel, exterior varnish, undercoat, metal primer, epoxy paints and bituminous paint.
Grandtech Paints manufactures the following products:PVA economy and standard grade – with a high emulsion content, this paint can be applied indoors or outdoors. Grandtech Washable – a high polymer content paint that can be scrubbed and is stain-resistant. This paint is high coverage and is used for interiors. Super Gloss Enamel – this is a high gloss enamel paint that contains a long oil alkyd resin base for improved durability and flow, and is used on door frames, doors, walls and skirting. Grandtech Exterior Varnish – gloss varnish for exterior use, containing ultra violet light absorbers for protecting wood surfaces. This product is used on doors, floors and window frames. Undercoats – for interior and exterior use, this is a base before applying the desirable paint. Metal primers – used on metals that will come into any contact with moisture. This paint seals metals and protects it from exposure before any paint can be applied. Epoxy paints – durable coatings that can be used for a variety of purposes that range from strong adhesives to durable paint and coatings for floors and metals. Bituminous paints – a type of coating used to build a vapor-proof and flexible protective coat. This is an excellent protective coating and waterproofing agent, commonly used on surfaces such as concrete foundations.Grandtech manufactures:
Aluminium paints
Swimming pool paints
Road line paints
Industrial coatings
Thinners
Crack fillers
Wood preservatives
Varnishes
Spirit of salts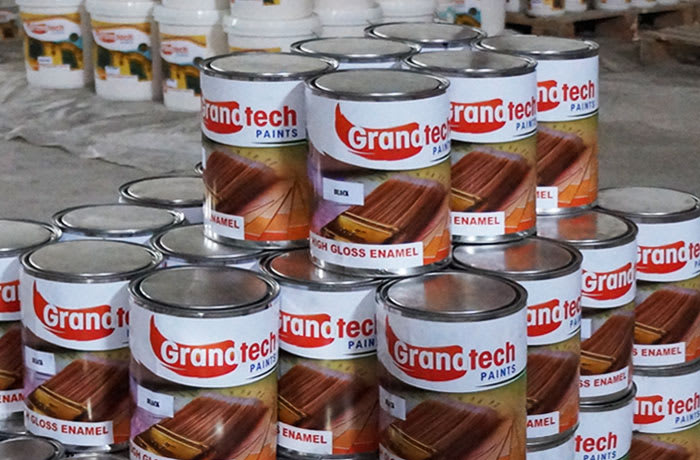 Grandtech Paints Ltd · Building materials