Kasonx Pub & Grill
Located on the corner of Lumumba and Nchoncho Roads,Kasonx Pub & Grill offers a relaxed setting with a neighbourhood feel and friendly efficient staff who ensure customers have an enjoyable experience. Sample a selection of traditional, Western and Eastern cuisines prepared by a professional in-house chef, or relax and enjoy a couple of drinks from the fully stocked bar. Kasonx Pub & Grill can host up to 120 guests, and is available for hire for private events.
Pubs and Bars
At Kasonx Pub & Grill all meals are served with wedges, rice or mashed potatoes, and the salad of the day. Sample the unique 'Kasonx salad' – a house salad designed by the in-house chef and a popular side dish for many meals. You can also enjoy a variety of authentic Zambia dishes cooked in the traditional way.
Restaurant
At Kasonx, each meal is served with a personal touch, and each dish can be perfected to meet an individual customer's preferences. Kasonx provides diverse dining options – guests can enjoy a meal inside the restaurant for a more formal feel or relax outside and enjoy the fresh air. Soft background music is played throughout the day to create a soothing atmosphere for guests.
Bar
Blended into the restaurant is a well-stocked pub that immediately makes customers feel at home. The bar has a large selection of lagers, whiskeys and other beverages which customers can enjoy in a friendly atmosphere while watching their favourite sports. In addition, Kasonx Pub and Grill has live bands on selected weekdays.
Private functions
Kasonx Pub & Grill is also an ideal setting for a variety of functions for corporate and personal occasions. The pub and grill can host up to 120 guests for weddings, birthday parties, cocktails and other private events on hire. And it offers an outdoor catering service.Information
Traditional, Western and Eastern cuisines
Dishes can be tailored to meet individual preferences
Indoor and outdoor dining
Fully stocked bar
Live bands on selected Fridays
Available for hire for private events (up to 120 guests)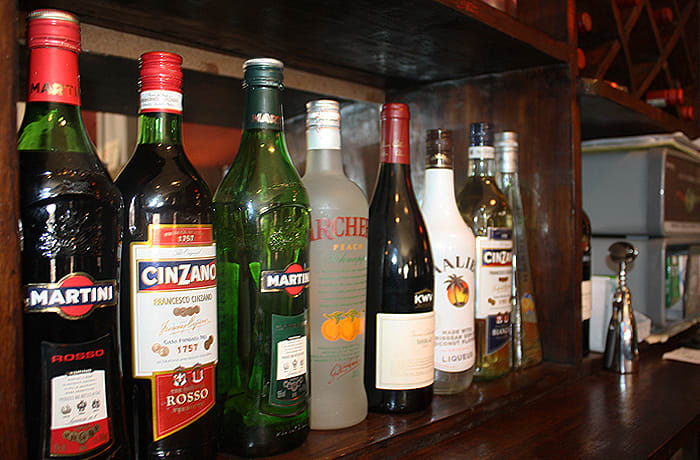 Kasonx Pub & Grill · Pubs and Bars