Safari Par Excellence - Lion Encounter
Walk with, interact and observe the offspring of captive-bred lions which are being re-introduced and back into the wild. Cubs are exposed to their natural habitat, developing stalking and hunting skills. At Lion Encounter experience an ultimate adventure - here you will be actively assisting in the cubs' pre-release training, as well as financially supporting the program's efforts to help save this iconic species. The company has over 20 years of experience and supported by a qualified team.
Animal encounter
Lion Encounter offers the most unique and stimulating experience walking alongside and interacting with the lions for approximately two hours outside the Mosi-oa-Tunya National Park. The trained handlers and guides take the lions for walks in the bush. This is definitely an amazing experience and not to be missed!
Before the trip the guide gives the guests a short introductory talk including safety aspects. Guests are encouraged to wear neutral coloured clothing, comfortable bush walking shoes, trousers or jeans, carry sunscreen and insect repellant.
The Lion Encounter offers flexible trips during the morning and in the evening. The pick ups start from 06:15hrs in good time to arrive at Lion Encounter by 07: 00hrs for the morning walks. The afternoon pickups start from 14:15hrs to arrive at Lion Encounter by 15:00hrs for afternoon walks. The morning walk includes a hearty breakfast, tea and coffee and the mid-morning and afternoon walks include snacks, soft drinks, beers and wine.
Any person under the age of 15, or shorter than 1.5m, will not be able to go on a lion walk.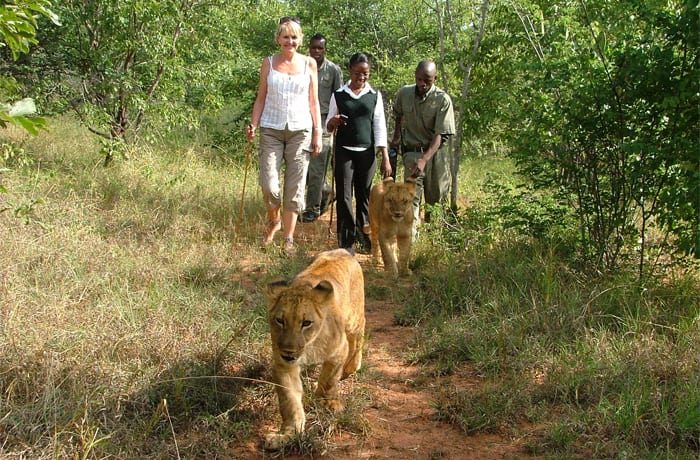 Safari Par Excellence - Lion Encounter · Animal encounter