Roma Lodge
Roma Lodge is situated at the end of a road with no through traffic in a quiet neighbourhood. The lodge has a range of spacious en-suite rooms and two fully-furnished apartments. They are ideal for families or business professionals, giving the privacy and flexibility you may need. The extensive gardens and swimming pool area make a great place for relaxation. Roma Lodge also has a restaurant and fully stocked cocktail bar. Their team is committed to make you feel welcome and special.
Lodge
Roma Lodge has 14 spacious en-suite rooms including two fully - furnished apartments. Each room has its own outdoor patio, climate control facilities, a mini bar fridge, satellite TV, tea, coffee-making facilities, landlines, safes and internet facilities. Standard rooms cost ZMW450 (excluding breakfast) subject to change without notice.
Roma Lodge is situated in a quiet neighbourhood. The expansive gardens make for peaceful surroundings and a tranquil environment to relax in or conduct business.
The gardens contain a variety of mature trees and plants including poinciana, mango, guava, jacaranda, bougainvillea, frangipani, flamboyant, and wild fig creating shade and beauty. Roma Lodge has private and secure guest / visitor parking for up to 40 vehicles.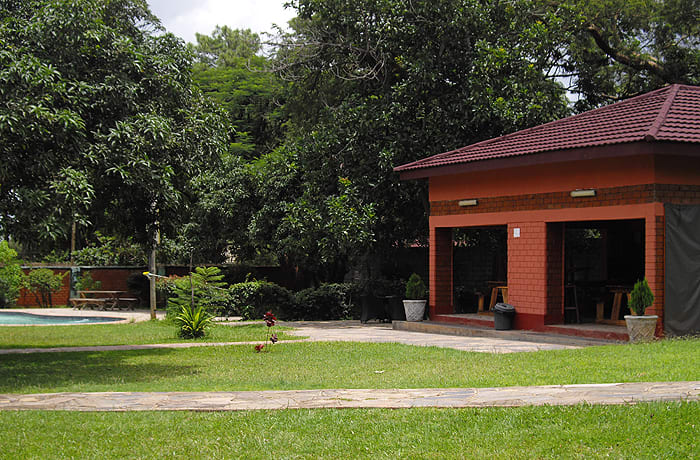 Roma Lodge · Lodge
Casual dining restaurant
Roma Lodge has an on site restaurant that serves a variety of international cuisines as well as Zambian dishes. Their professionally trained chefs take great pride in serving top quality meals at competitive prices. The cocktail bar is fully stocked with a variety of alcoholic and non-alcoholic beverages.
Roma Lodge Garden Bar
Roma Lodge Garden Bar is a picturesque open bar with terrace adjacent to the pool and surrounded by established gardens. The bar has satellite TV and large screen for watching sport. It serves Zambian and South African beers, spirits, espresso coffee, tea, and soft drink till late.
Available food
Steaks - T bone, rump, fillet with sauces
Pork - chops
Chicken - 1/4 grilled
Salads - coleslaw, green salad, tomato
Fish - bream, kapenta, tilapia
Sides - Nshima, chips, rice
Samoosas
Chicken wings
Chicken livers
Chicken drumsticks
Hungarian sausage
Chicken gizzard
Braai
BBQ's for up to 20 people can be arranged with advance notice and some discussion about your preferred menu.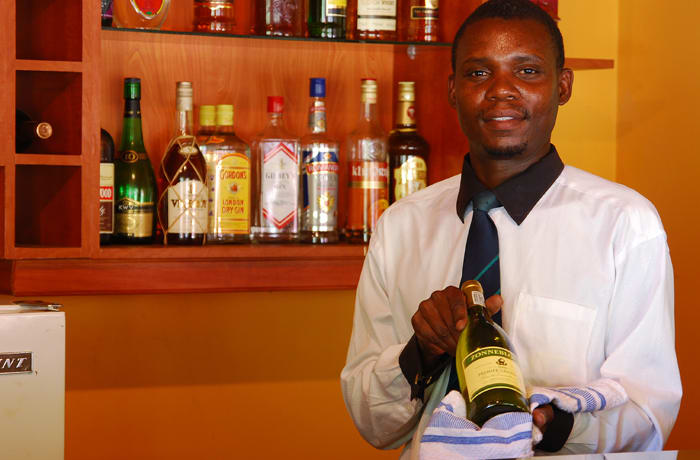 Roma Lodge · Casual dining restaurant