Signarama Zambia
Signarama Zambia was established in 2011. It provides a wide range of signage solutions and is part of the worldwide Signarama brand. This is the world's largest sign franchise operating in 54 countries with over 850 stores worldwide. Signarama Zambia is independently owned and operated and has made a significant investment in software, equipment and a modern showroom. Think signs, banners, vehicle wraps, exhibition stands and more.
Multimedia and Advertising
Signarama's products and services include bill boards, banners, light boxes, window graphics, vehicle branding, graphic design, business cards, leaflets, brochures and fliers, posters, folders and pop ups. It uses state of the art equipment and software in order to provide some of the highest quality signage on the market.
Through quality signage, Signarama Zambia provides a wide range of advertising solutions to the Zambian market. Signarama Zambia is part of one of the largest signage company in the world with its corporate headquarters in USA. Signarama has been in existence for 26 years.
Signarama Zambia is conveniently located along Thabo Mbeki Road in Lusaka, not far from Arcades Shopping Mall. The company is registered with the Zambia Public Procurement Authority and the Citizens Economic Empowerment Commission.
Range of Signarama clients
Signarama has worked with clients from various sectors such as:
Government agencies
Audit firms
Media agencies
Hospitals
Road construction companies
Financial institutions
Real estate agents
Pharmacies
Museums
Security firms
Broadcasting companies
Retail sector companies
Signarama products and services
Bill boards
Banners
Light boxes
Graphic design
Leaflets, brochures and fliers
Posters
Folders
Pop ups
Vehicle branding
Window graphics
Large format digital printing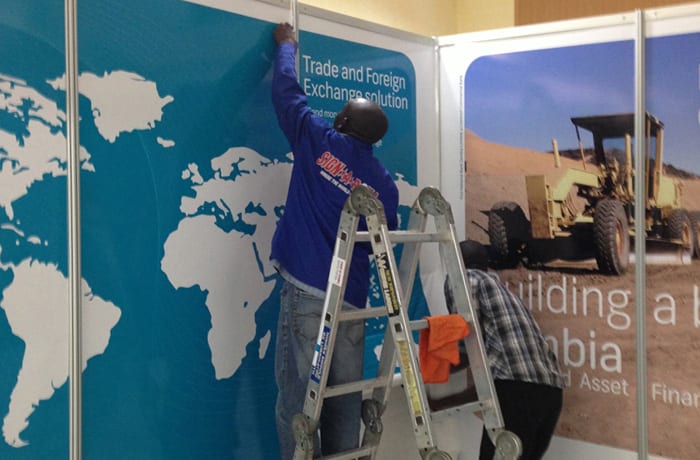 Signarama Zambia · Multimedia and Advertising