Tandem Trailer Tech
Tandem Trailer Tech is a manufacturing company that specialises in agricultural trailers, dumpers, and light and heavy duty steel fabrication products and services. This company has obtained its experience and expertise from the former Tandem Scania and Tandem Trailers (based in Zimbabwe). It also has an engineering projects division, a construction division and a large repair bay in Lusaka, with a pool of professional mechanics.
Contact details
Tandem Trailer Tech has not updated their information in over a year and these details might be out of date.
Trailers
Tandem Trailer Tech is one of the leading suppliers in Zambia of all kinds of trailers, including highway and off road trailers up to 40 tons, dumpers and tippers, road tankers and specialised haulage trailers. This company also has extensive experience in the manufacture and maintenance of railway rolling stock.
Tandem Trailer Tech manufactures the following trailer types
Highway and off road trailers up to 40 tons
Dumpers and tippers
Road tankers
Specialised haulage trailers
Rolling stock Tandem Trailer Tech are also experts in the manufacture and rehabilitation of railway rolling stock. The company has worked on over 1500 wagons for all the major rail systems within the region and as far as Tanzania and Uganda. Types of rolling stock include:
Freight wagons of all kinds – high and low sided, open and covered, container carriers, powder and liquid tankers for fuel, molasses, tar, cement and phosphates, and specialised goods wagons including those for grain, cattle and ore
Cabooses, guards vans and passenger coaches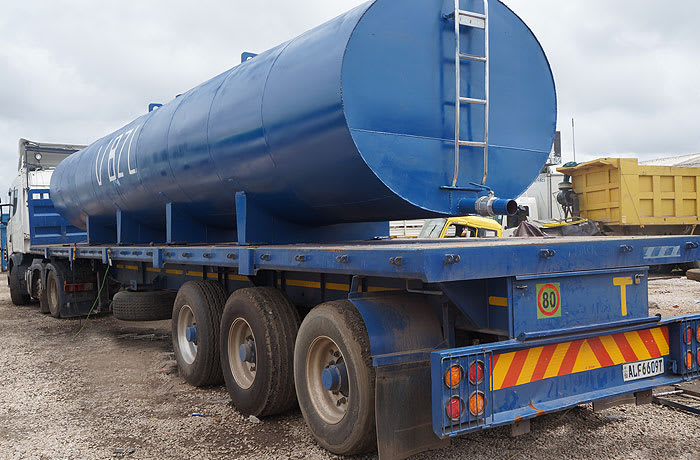 Tandem Trailer Tech · Trailers
Truck and Bus maintenance
Tandem Trailer Tech provides quality repair services for trucks, trailers and buses. With its highly trained team, it offers full fleet repairs as well as collision repair for clients and insurance companies - complete body repair, fabrication and refurbishment. Contact Tandem for a free estimate.
Tandem Trailer Tech's expertise is not limited to the outside of tractors and buses. The company can also efficiently refurbish and repair interiors. Tandem Trailer Tech provides quality repairs for different makes and models of trucks and buses. The company has a large repair bay in Lusaka, with professional staff who work with clients and insurance companies to ensure that repairs are completed to a high standard and in a timely manner. Tandem Trailer Tech has the expertise and experience to handle any collision repair no matter how extensive the damage. Refurbishment Tandem Trailer Tech provides bus and truck passenger seat re-upholstering and refurbishment. This includes the removal of used seats, stripping off the worn fabric and adhesive, steam cleaning the core, re-upholstering with new fabric and re-installation of the units. It also offers professional floor and sub-floor repair and replacement. Collision repairs Tandem Trailer Tech undertakes high quality collision repairs for many different makes and models of large and medium size vehicles. The company's collision and repair technicians are able to transform a damaged vehicle back to its original condition. Tandem Trailer Tech has the capability to work on different vehicle types including light trucks, heavy duty trucks, buses and heavy equipment. Collision repair services include:
Body repair
Bus paint and custom graphics
Frame repair
Glass and panel replacement
Air conditioning repair
Frame straightening
Wheel alignment
Services provided
External body repair and refurbishment
Internal bus refurbishment
Vehicle rebranding
Floor covering repair and replacement
Plastic seat back refurbishment
Floor and corrosion repairs
Panel replacement
Inspection repairs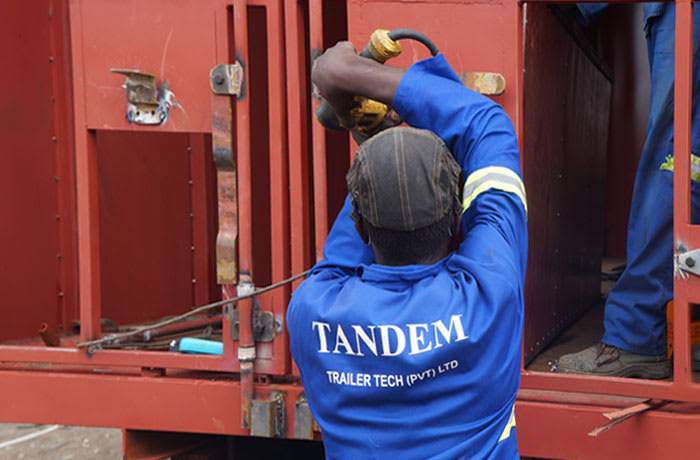 Tandem Trailer Tech · Truck and Bus maintenance