Terrace Apartments
Terrace Apartments is located 20 minutes from Kenneth Kaunda International Airport and five minutes from well-known shopping malls and restaurants. The Terrace Apartments are boutique, fully serviced apartments set in a quiet, exclusive and secluded neighbourhood. These luxury yet affordable apartments are exquisitely furnished with modern facilities, 24 hour security and ample parking space. They offer three types of apartments including superior 2 bedroom, executive 2 bedroom and the deluxe 1 bedroom apartments.
Apartments
The Terrace apartments are uniquely designed, each apartment boasts a state-of-the-art, open plan, gourmet kitchen and living area, floor to ceiling windows, high ceiling, contemporary design, accent walls, recessed lighting, custom shelves, and wooden flooring. Bedrooms are spacious with en-suite bathrooms.
Terrace Apartments offers high quality accommodation with complete, modern furnishings, spacious comfortable bedrooms with plenty of closet space, en-suite bathrooms, fully air conditioned, luxury linens and towels, glass showers, baths, gourmet open plan kitchen, all kitchen utensils, integrated microwave, stove and fridge, water dispensers and outdoor BBQ facilities.
The Terrace Apartments are located in a safe and secure compound with 24 hour security, fully walled with electric fence and CCTV cameras. The apartments also feature a private borehole providing independent water supply as well as independent 90kw generators.
Location:
5 minutes to Arcades Shopping Mall, nightlife, restaurants and Spar supermarket
3 minutes to East Park Shopping Mall, nightlife, restaurants and Pick n Pay supermarket
7 minutes to Manda Hill shopping Mall
20 minutes to Kenneth Kaunda International Airport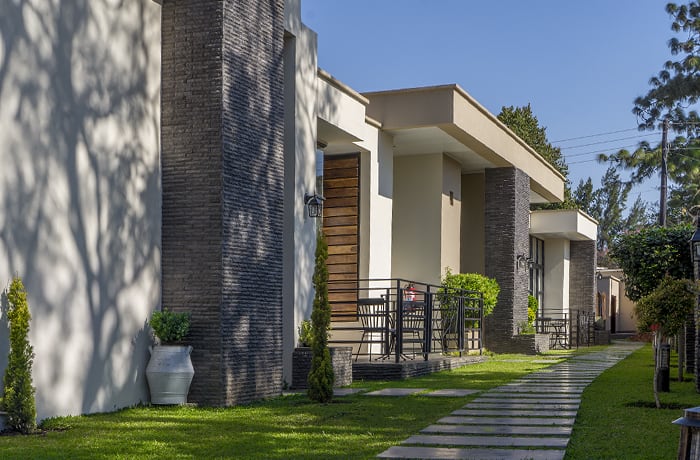 Terrace Apartments · Apartments