Zebra Crossing Cafe
The ideal place for breakfast, light meals, or just a cup of coffee. Zebra Crossing Café also caters for private functions, birthday parties and business meetings. The coffee is great and the food was amazing. The gift shop is very nice as well. Great steak in the middle of the week with a mouth watering salad, followed up by homemade ice cream. The restaurant has an informal setting which makes one loosen up and enjoy a good lunch. Good location with an Afro centric calm vibe. Lots of local art work on the walls, pillars etc.
Cafe
Zebra Crossing Café is friendly, well priced and in a convenient location. A perfect place to work and meet friends for a delicious meal, a coffee or a glass of wine. The Zebra Crossings is located in the gardens of Ababa House Gift Shop. The café is the venue for a new rotating art exhibition on the first Thursday of every month.
At this small boutique you can eat at shaded tables overlooking a garden surrounded by woodcarvings and African artwork. Tuck into carrot-and-marmalade muffins, wraps and sandwiches. It's a pleasant stop to refuel after a browse through the curio shop and art and handicrafts gallery.
A good selection of delicious snacks and meals at a reasonable price in a quiet garden near the Manda Hill shopping centre – with WiFi if you must. In a small complex with a craft shop, delicious chocolate bar and a ladies salon.
Artists, professional and amateur, all book well in advance to exhibit at this trendy venue. Weekly art demonstrations and classes are also held at the café adding to the arty vibe.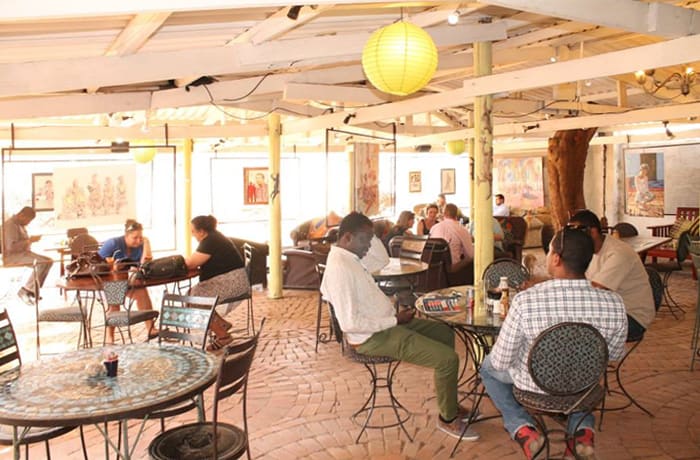 Zebra Crossing Cafe · Cafe