Stef's Sourdough Basket
Stef's Sourdough Basket is an artisan bakery that creates naturally-leavened sourdough bread. For sustainability, health and responsibility from seed to a finished tasty loaf of bread, each item is made by hand with patience and dedication. By using a slow fermentation process, the bread has a full sourdough taste and excellent crusty crumb. Outlets include The Pantry in the Village, Debbefeld Veggies, The Deli, The Meatery and on request, Peaberry Coffee Roasters and Mint Lounge at Sandy's Creations. Fresh deliveries Tuesday, Thursday and Saturday.
Bakery
Stef's Sourdough Basket offers a wide selection of nutritious and delicious breads, buns and pretzels. At Christmas this bakery makes a selection of German inspired treats. Everything is made with locally milled flours, using old European methods of wild yeast fermentation and lots of time. The breads and sweet treats are delicious, homely and moreish!
Stef's Sourdough Basket uses old and proven traditional German recipes with sourdough.
Outlets
Find Stef's delicious breads at a selection of Lusaka outlets. Pick up your fresh deliveries on Tuesday, Thursday and Saturday.
The Pantry in the Village, Leopards Hill
Debbefeld Veggies, ex. Kachelo, Leopards Hill Road, Woodlands
The Deli, Centro Mall
The Deli, Lunzua Road, Rhodespark
The Deli, Mukuyu Road, Leopards Hill
The Meatery, Omelo Mumba Road
And on request at
Peaberry Coffee Roasters
The Mint Lounge at Sandy's Creation
Special orders
German Christmas Stollen (Homemade from sweet sourdough)
Stef's German Christmas Stollen is homemade from sweet sourdough and is perfect for the festive season. It is made out of the best ingredients found in Zambia and Germany.
Other special orders
Stef's Sourdough Basket welcomes special orders of any kind. Just send a What's App message giving your requirements and the bakery will check if it can satisfy your order.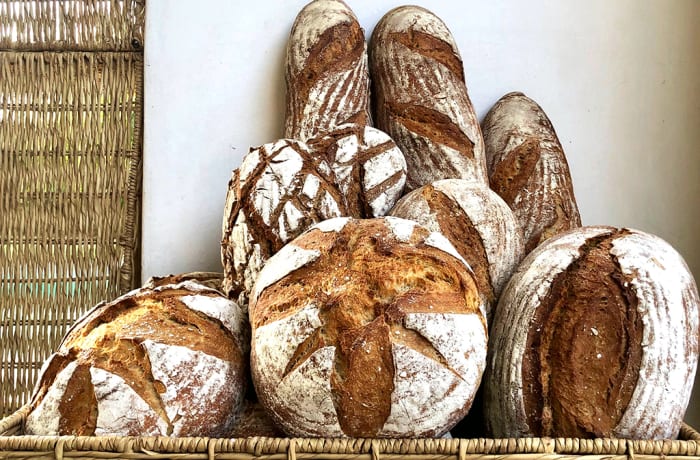 Stef's Sourdough Basket · Bakery