Universal Fitness
Universal Fitness gym offers state of the art gym equipment, fitness classes and facilities such as sauna and steam rooms. Universal Fitness boasts one of the most comprehensive ranges of gym equipment from the quality Life Fitness range of products. For clients' convenience, the gym has bathrooms with integrated steam room and sauna. If you have fitness aspirations you can train at either of the two Universal Fitness branches in Lusaka.
Contact details
Universal Fitness has not updated their information in over a year and these details might be out of date.
Fitness
This gym operates within a 1,200 square meter facility, offering a comprehensive and dynamic range of services that help clients get into shape. Universal Fitness has six professional trainers on hand to assist clients in developing a suitable training regime, especially useful during their first few weeks of membership.
Services
Aerobic classes
Zumba
Pilates
Yoga
Spinner bike classes
Mixed martial arts
Kick boxing for adults and children (between the ages of 4 to 15)
Equipment The gym uses Life Fitness equipment, one of America's leading fitness equipment brands. Life Fitness has been developing gym equipment for over 40 years. The majority of the equipment allows clients to plug in their earphones and enjoy music as they work out. Various television channels are also available. Cardio Equipment
Recumbent bikes: The rider is placed in a laid-back reclining position
Upright bikes: These exercise bikes allow the user to work out in an upright position
Treadmills: Run or walk while staying in the same spot. Universal Fitness treadmills incorporate flexible technology with shock absorbers, guaranteeing the best possible workout
Step mills: Emulating a stair case, these steps provide an efficient cardiovascular workout while improving the muscle tone in your glutes, calves, quadriceps and hamstrings
Cross trainers and elliptical trainers: Used to simulate stair climbing, walking, or running without causing excessive pressure to the joints. These offer serious shock absorption and allow people with minor injuries to use them to stay fit with low impact exercise
Strength equipment
Smith machines: The Smith machine is a piece of equipment used in weight training. It consists of a barbell that is fixed within steel rails only allowing vertical movement. It is the safest way to lift weights
Jungle gyms: These are multi-tasking exercise machines that target various parts of the body and offer a more comprehensive workout
Abductors: These are used to strengthen inner and outer thighs, firming them up. Glute abductors are also available
Rotary torso machines: These work out the abdominal oblique muscles. It involves rotating the torso in alternate directions, to the left and to the right. Resistance is provided by a weight stack which enables the workload to be adjusted to suit the user
Rubber dumb bells: A wide range is available
Universal fitness facilities
12,000 meter square gym facility
Bathrooms
Sauna rooms
Steam rooms
Earphone plug-in on most exercise machines
Life Fitness branded equipment
Future plans Universal Fitness believes in constantly evolving in order to provide up to date and current equipment and services for their clients. Future plans include the opening of a hair salon, nail parlour and massage spa, provision of juice and protein shakes and a business center with internet cafe. Further information Universal Fitness is on a mission to meet the health and fitness needs of the whole family. It offers fully equipped gym facilities where anyone with fitness aspirations can come and train. In pursuit of these goals, to date Universal Fitness has developed:-
Two operating branches under the Universal Fitness Gym umbrella
Facilities which are spacious and well-ventilated, with world class equipment
A company culture within which staff members bring expertise, collaboration and team work to gym members' experience
A competitive edge within the fitness market
The Universal Fitness brand 'If it ain't universal it ain't fitness'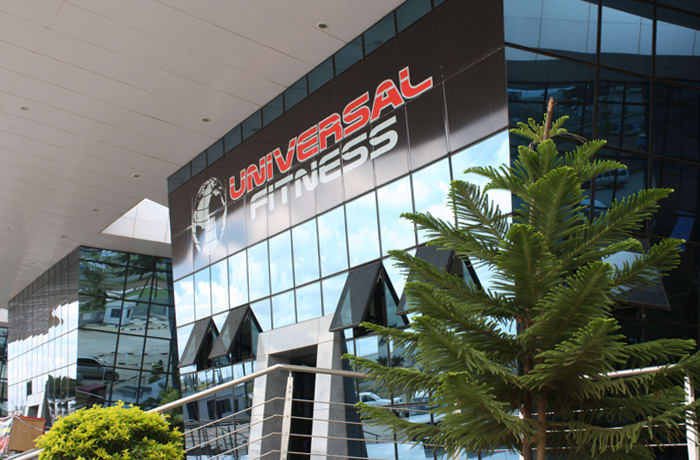 Universal Fitness · Fitness